Bring On The Front Yard Farmers
Submitted by KAT on Wed, 08/12/2009 - 11:35am.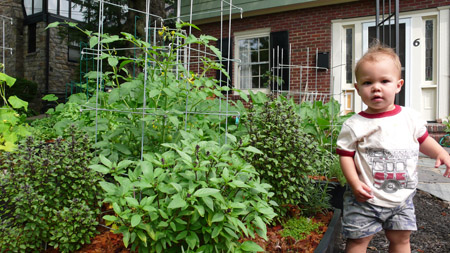 Reusable shopping bags and compact fluorescent light bulbs are an easy place to start, once you've resolved to curb your carbon footprint. But why not go for some low hanging fruit that you could actually pick? Growing food in your front yard is a simple and tasty way to combat climate change.
Maintaining a lawn, on the other hand, is an exercise in monocrop masochism. As architect and edible landscape advocate Fritz Haeg wrote in Edible Estates: Attack On The Front Lawn, "...there is nothing remotely natural about a lawn. It is an industrial landscape disguised as organic plant material."
Those innocent-looking, wispy green blades are just a façade; at its roots, a lawn is a high maintenance monster, demanding regular feeding, seeding, weeding, watering and mowing.
And squandered resources are only the start. Gas-powered lawn mowers generate tons of air pollution. Excess fertilizer seeps out of our lawns and encourages equally lush growth in our waterways, where nitrogen-fed 'algal blooms' choke all kinds of aquatic life.
Yet, for so many Americans, a patch of green grass is still the gold standard when it comes to landscaping. As Haeg notes:
In the United States we plant more grass than any other crop: currently lawns cover more than thirty million acres. Given the way we lavish precious resources on it and put it everywhere that humans go, aliens landing in any American city today would assume that grass must be the most precious earthly substance of all.
Why not feed ourselves, instead of the grass? That's the simple goal of Haeg's Edible Estates project. Starting in 2005, Haeg enlisted the help of a small army of grow-your-own volunteers, and began converting lifeless lawns into productive food gardens, one front yard at a time. He's helped folks all over the country plant gardens that nurture themselves and their neighbors, and documented the happy end results in Edible Estates, published in 2008.
Since the book came out, the homegrown revolution's moved full steam ahead, with a big boost from Michelle Obama--not to mention an economy that's got folks growing their own food on a scale we haven't seen in decades.
So it's time for a new, expanded edition of Edible Estates. Are you the proud owner of a once sterile, now fertile front yard farm? Do you live in hardiness zones 3,4, 5, or 9? If so, Fritz Haeg wants to hear from you:
For this new edition of the book (Metropolis Books, 2008) we are looking for more reports from across the country from those that have decided to engage in "full frontal gardening". Have you replaced the lawn in front of your house or apartment building with a completely edible garden? We will be selecting one garden story from each zone, with each contributor receiving a copy of the book.
The deadline for submissions is Monday, August 31st, and you need to submit:
- a 500 word story about your garden
- 4 or 5 photos of your garden at the highest resolution
- your name, mailing address, size of garden, date established, and USDA Plant Hardiness Zone

Zone 9 includes: Houston, Central Florida
Zone 5 includes: Des Moines, Chicago
Zone 4 includes: Minneapolis, part of Wyoming
Zone 3 includes: Northern Minnesota and Montana
Don't know your zone? You can look it up here.
Send your questions and submissions to [email protected]. Here's your chance to help wean your fellow citizens off the grass and sow the seeds for our homegrown revolution. Kitchen gardeners of the world, unite and take over!
Cross-posted from The Green Fork.