If You Can't Stand The Heat, Get Into The Garden
Submitted by KAT on Wed, 09/23/2009 - 11:13am.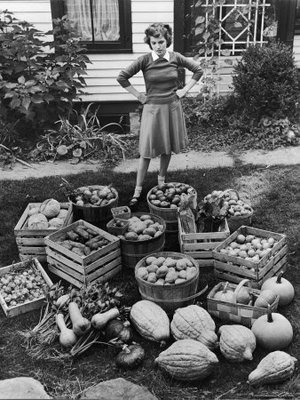 I'm always amazed by the number of folks who think that most of Central Park is some kind of natural habitat of indigenous plants, a pristine terrain onto which we plunked our bike paths, boathouses and pretzel vendors.
In reality, nearly every square inch of Central Park was painstakingly landscaped back in the mid-nineteenth century to the specifications of Frederick Law Olmstead and Calvert Vaux. A massive public works project, it required some 20,000 workers to subvert existing swamps and blow up bluffs to create a soothing pastoral landscape in the English romantic tradition.
Oh, and there was the little matter of evicting the Irish pig farmers and German gardeners who'd built shantytowns on the land. And destroying Seneca Village, the "first significant community of African American property owners on Manhattan". The five acre settlement, which included three churches and a school, was seized through eminent domain and demolished.
All this, so that cooped-up city dwellers could get their fix of "nature". Our civilized way of life is so removed from the natural world that Central Park's manicured, manipulated acres are as close to a bit of wilderness as we can hope to get within the borough of Manhattan.
But you can catch a glimpse of what Manhattan was really like before we invaded it and tamed it by watching the fascinating video that architect/educator Fritz Haeg's created in collaboration with The Mannahatta Project. The video documents Haeg's Lenape Edible Estate installation, which was designed to "provide a view back to the lives of the native Lenape people, how they lived off the land 400 years ago" on the island that was then called Mannahatta.
The Lenape project was installed back in June when Haeg and a team of volunteers descended with shovels and soil on a triangle of uncultivated land in front of a Chelsea housing project to plant the beans, corn, squash, berries, and other edibles that the Lenape tribe lived on centuries ago.
The project offers a "meditation both on the historical facts and the future possibilities for our occupation of the island," as Haeg notes. He hopes that it "may also serve as a model for modest small scale urban edible landscapes and as a possible prototype for future green spaces on similar housing sites across the city."
I'm delighted to see Haeg bring his verve and vision to an American urban setting. His U.S. plantings have been primarily in the 'burbs, as documented in his book Edible Estates: Attack On The Front Lawn (which also includes an installation at a London housing project). Edible Estates, written in 2007 and published in the winter of 2008, anticipated--and surely helped inspire--the recent kitchen garden renaissance. Haeg's book sold so well that it's now out of print.
Happily, a new edition will be released next spring. The new Edible Estates will include more stories of lawn-to-lettuce conversions and an expanded preface from Haeg on how the edible landscape scene has changed since the first edition. Urban ag genius Will Allen's contributing a piece, and there will be a nod to the White House kitchen garden, whose role in helping to inspire millions of new gardeners this year is indisputable.
As Haeg noted in an op-ed this past spring in the Guardian, the First Family's 1,100 square foot patch of veggies is "not just a pretty garden, or an empty symbol, but a place for a family to grow the food that they like to eat, on the land that is around them" (that's why there's plenty of cilantro and tomatillos, for salsa, but no beets--Obama doesn't like 'em). Haeg adds:
Many American children today do not see evidence that food comes out of the ground or experience the pleasure of eating food fresh from plants. Instead their diet is causing epidemic childhood illness. The introduction of a food-producing garden into their early lives is our best hope for changing the situation in a meaningful way.
But there's another compelling reason to start growing some of your own food, whether it's in your yard, on a rooftop, or in a window box: it's one way to help curb your carbon footprint, or, rather, foodprint. No one is seriously suggesting that city dwellers can produce all our own food in our yards, community gardens, or urban farms, but it's just one of the many steps that we can take to lower our impact.
During World War II, planting a kitchen garden was pitched as our patriotic duty. Isn't it time we made growing your own food a civic virtue once again? Only this time, the fight is against the fossil-fueled American life that's given us an increasingly unhealthy populace and an overheated planet.
And we're in imminent danger of losing that battle. "Current emissions trajectories" are hurtling us towards the point of no return, i.e. "the worst-case scenarios" of the Intergovernmental Panel on Climate Change, according to the New York Times.
At a daylong conference on climate change held Tuesday at the United Nations, Rajendra K. Pachauri, the chairman of the IPCC, told the world's leaders that "Science leaves us no space for inaction now".
This bleak pronouncement comes on the heels of a headline blaring "We're Screwed" on the front page of Monday's New York Post--or, rather, a remarkably New York Post-like publication that was passed out to unsuspecting commuters by activists. The hoax was orchestrated by the Yes Men, that pair of pranksters who've so masterfully manipulated the mainstream media, as documented in their upcoming film, The Yes Men Fix The World.
It looked an awful lot like the real thing and fooled a lot of folks. But on close inspection, you could tell that it was a fake because, unlike Rupert Murdoch's publication, "the faux Post is filled with factual information on the threats posed by climate change," as USA Today observed.
You'd never see an article in the real Post touting the potential of rooftop farming to help curb New York City's carbon foodprint, or a shout-out to an upcoming presentation hosted by NYU on Food and Climate Change: The Meat of the Matter, that explores the significant contribution that meat and dairy production make to rising greenhouse gas emissions.
Meanwhile, Monday's edition of The Daily News ran an article about the 18,000 pounds of fresh produce that inmates on Rikers Island have grown this year to supply the city's soup kitchens and food pantries--further proof of the tangible, quantifiable benefits of urban agriculture.
Monday's Financial Times also echoed the Yes Men's "We're Screwed" headline with an article entitled "Scientific Consensus Over Dire Consequences," which noted that:
The gap between the glacial pace of negotiations and the rapid progress of global warming is now endangering the safety of the planet, scientists are warning. Martin Parry, of Imperial College, London, says: "That is what is at stake. I don't think people have realised. We are nowhere near tackling this."
Can we muster the collective will to alter the way we live in order to avert the worst repercussions of climate change? Those of us who live in densely populated cities already have the advantage of mass transit--and, ironically, greater access through farmers markets and CSAs (though not nearly enough in many communities) to the freshly harvested plant-based foods that form the cornerstone of a low-impact diet.
I don't know if we'll ever manage to liberate ourselves from the petroleum-based processed foods that currently dominate our food chain. But I'm heartened by the sight of so many New Yorkers attempting to grow food, whether it's on the roof of a Brooklyn warehouse or the back of a Brooklyn-based pick-up truck, behind the barbed wire of Rikers Island, or in front of a housing project on the island formerly known as Mannahatta. Let freedom spring!
Cross-posted from The Green Fork.