Mark Bittman: Leafy Green Revolutionary?
Submitted by KAT on Thu, 01/27/2011 - 6:43pm.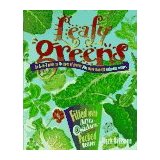 For a self-proclaimed minimalist with a minuscule kitchen, Mark Bittman's had maximum impact. He's the digital dervish of The New York Times Dining section: his recipes ricochet around the blogosphere, his cooking videos go viral, he's constantly tweaking his How To Cook Everything app, he tweets and blogs regularly.
And, he pens op-eds exhorting us to eat less meat and embrace a plant-based diet. So, it wasn't exactly a shock to hear that the Minimalist is moving on, departing from Dining and bringing his "lessmeatatarian," 'go-vegan-till -six' advocacy to the Times op-ed page.
It's a natural progression, in fact, because Bittman's actually been touting tatsoi and pushing purslane for more than a decade. His How To Cook Everything books may be a kitchen bookshelf staple, but the Bittman book I reach for most often--and the one that transformed the way I eat--is a tattered, soy sauce-splashed paperback from 1995 called Leafy Greens: An A-To-Z Guide to 30 Types of Greens Plus 200 Delicious Recipes.
The introduction begins, "It's no secret that vegetables, grains and fruits are the future of the American diet."
No, but it seems to be a secret that Bittman ever wrote this book! It's been out-of-print for ages, and for the life of me, I can't figure out why Macmillan doesn't reprint Leafy Greens, because it's simply the best guide to greens that I've seen to this day. It demystifies obscure greens and celebrates overlooked ones.
I stumbled across it at the Strand bookstore in NYC when it first came out and was intrigued by the recipes featuring exotic Asian greens, sea vegetables, and common garden weeds--none of which were then in my culinary repertoire.
The recipes are classic Bittman: a few basic ingredients that you can adapt to suit your fancy and your pantry. Don't have kale? Let collards or mustard greens pinch hit. Can't find cress? Make do with mizuna. Virtually every recipe in the book offers alternative suggestions.
Leafy Greens introduced me to the whole family of sweet, crunchy Asian cabbages and spicy mustard greens. It taught me that beet greens and swiss chard are interchangeable.
Bittman also inspired me to grow amaranth, orach, and cultivated strains of purslane, dandelions and watercress in my garden, and to harvest their wild cousins instead of composting them. In a "Note to the Gardener" at the end of the book, he declares, "Everyone who has a bit of dirt should grow greens," and lists his favorite seed sources.
As an advocate for Meatless Mondays and the axis of eat well-- i.e., fruits, veggies, and whole grains--I've been delighted to see Bittman use his tremendous influence to encourage folks to become more ecologically enlightened eaters. As Slow Food USA President Josh Viertel once declared at an Earth Institute conference hosted by Jeffrey Sachs--who sadly subscribes to the notion that industrial agriculture is the only solution to world hunger--"We don't need another Green Revolution. What we need is a Leafy Green Revolution!"
I couldn't agree more, and I know just who to put in charge of it. If only we could get Macmillan to reprint the manifesto.