Meet Mario Batali's Las Vegas Visionary
Submitted by KAT on Thu, 12/09/2010 - 8:33am.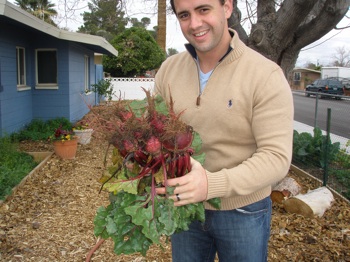 Wholesome. Natural. Sustainable. Not the first words that come to mind when you think of Las Vegas. Times Square on steroids is more like it. Ecological disaster comes to mind, too.
Yet, there it is, every Thursday, inside a warehouse on South Dean Martin Drive -- Bet On the Farm!, a farmers' market offering fresh fruits, vegetables, and other foods from the region's farmers.
And it's all thanks to one exuberant, idealistic man -- Doug Taylor, executive pastry chef at the Batali-Bastianich Hospitality Group's three Las Vegas restaurants: B & B, Carnevino, and Enoteca San Marco. Taylor, a Northern California native who cherishes that wholesome holy trinity of simple, seasonal, and local, had the quixotic notion that this ethos could take root in the epicenter of over-the-top, unbridled exotic excess.
So, with the blessing of the Batali-Bastianich team, he took it upon himself to track down the small family farmers in this region who manage to grow an astonishingly wide range of fruits and vegetables despite the bone-dry climate.
His field trips led to the launch last year of the Bet On the Farm! market, giving his fellow chefs and Las Vegas residents the opportunity to buy fresh food directly from the folks who grow it.
But Taylor's efforts to relocalize Las Vegas's food chain don't stop there. He's also an instructor at the University of Nevada's agricultural program, where he's researching new ways to grow drought-tolerant varieties of fruits and vegetables intensively in this arid metropolis.
His endeavors to create a more self-sufficient Las Vegas come at a time when this city's luck seems to be evaporating even faster than Lake Mead, which provides most of the city's water -- and is currently more than half empty.
A decade-long drought has left Lake Mead at its lowest level ever, putting Las Vegas on the shortlist of cities facing a high risk of a severe water shortage.
Nevada's job market has dried up, too. The state now has the sad distinction of leading the nation in both unemployment and foreclosures. The flood of foreclosures -- the rising tide that only floated the bankers' boats -- has brought the number of underwater Las Vegas mortgages to a whopping, jaw-dropping 80 percent.
In this dismal climate, Bet On the Farm! and Taylor's adventures in edible landscaping are two oases of optimism, bolstering the local farmers and bringing fresh, homegrown food to the community. It's a testament to the forward thinkers at the Batali-Bastianich Hospitality Group that Doug Taylor has been given the chance to pursue his passions. Taylor kindly took time out from all his culinary and horticultural duties to answer a few questions via email:
KT: What compelled you to start a farmers' market in Las Vegas, of all places?
DT: We, as chefs, (Zach Allen, culinary director; me; Jason Neve, chef of B&B; and Nicole Brisson, chef of Carnevino) were starving for better products and a relationship with producers. We partnered up with Kerry Clasby and her foraging company, California Family Farms, to help get the best food and products into the Las Vegas restaurants and community.
At the same time, we were bringing local farmers together and showcasing them at B&B, Carnevino, and Otto Las Vegas to our nightly guests and the top restaurants and chefs on the Las Vegas strip.
We decided to open Bet on the Farm! Farmers Market in the spring of 2009 so we could bring local farmers and the top selective artisanal California farmers together for the first time in Las Vegas.
Prior to Bet on the Farm!, produce that was being trucked into Las Vegas was not equal to the chefs or the restaurants of Las Vegas. Now, with the market going into its second winter, there is finally a balance of world class chefs using world class products from California and the local farmers from Las Vegas.
KT: What role does food play in Las Vegas' economy? Has Bet On the Farm! changed the landscape for local farmers?
DT: Las Vegas and the state of Nevada collect more taxes from retail and dining sales than from gambling. With restaurants and chefs buying local produce, the increase of production in and around southern Nevada has skyrocketed. In a down economy, 90% of local producers are planning on an 80% to 100% expansion of their farms in the next year.
The most significant thing that Bet on the Farm! has done is create a place where producers/ farmers have a podium to showcase their products to the local community and the restaurant industry of Las Vegas for the first time.
KT: Las Vegas presumably isn't on the cutting edge when it comes to composting. How do you deal with all the food waste and kitchen scraps from three restaurants? Have you implemented other sustainable initiatives at the three Batali/Bastianich Vegas outposts?
DT: Zach, Jason, and Nicole started the sustainable/green programs in Las Vegas. The composting of food waste and bio-diesel is relatively simple. When the farmers come for deliveries they pick up the kitchen waste (food waste and fryer oil)and take it back to the farm. It took a little organizing and figuring out schedules but it runs pretty smooth now. All the lights in the walk-ins are on timers, all faucets have water control aerators, hand dryers in all restrooms, over all communicating and education with staff about changing habits and trying to conserve where we can.
KT: You've turned your own front yard in downtown Las Vegas into an edible landscaping experiment. What have you learned so far? Are you hoping to inspire your neighbors to become front yard farmers?
DT: It's an experiment with the University of Nevada Cooperative Extension on high density urban farming. The hope is that we will educate and inspire others to do the same and change the way we eat and view food in Las Vegas. With having a front yard with 60 fruit trees and four vegetable beds, everyone who passes by can't believe what they see and smell.
In late February, the whole yard is in pink and white bloom with beets, carrots, radishes and lettuces filling the beds. I love being a part of the process of each season. We hold classes on watering with responsibility, pruning for each season, soil wealth, and planting cycles.
KT: How do you find the time to fulfill your duties at Carnevino, B & B Ristorante, and Otto Las Vegas, oversee the Bet On The Farm! market, tend your own front yard farm, and work with the University of Nevada Cooperative Extension to research drought tolerant varieties of fruits and vegetables?
DT: It's not work to me, I have a passion about food and who is producing it. Farmers are some of the most interesting and wonderful people I have ever met. I'm honored to be able to help where I can and to be considered a friend to them.
Whether I'm in the restaurants, working at the University of Nevada Cooperative Extension under Professor Robert Morris, or on the farms, it's my dreams come true! I am the happiest chef in all of Las Vegas!