Rachael Ray Honors a Tough-But-Tender Teacher
Submitted by KAT on Sun, 05/02/2010 - 5:22pm.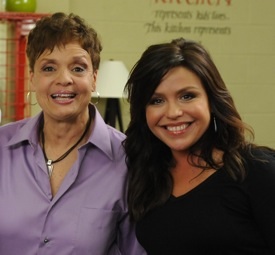 Wilma Stephenson and Rachael Ray
Philly high school teacher Wilma Stephenson is what you might call a benevolent bully. Pressure Cooker, a just-out-on-DVD documentary about Stephenson's "culinary boot camp," gets some laughs from her drill sergeant-style tactics.
But there's nothing funny about all the obstacles facing her inner-city students in their efforts to win scholarships to the country's best culinary academies. Having a mentor like Stephenson to goad and guide them gives her kids opportunities that would more likely pass them by were it not for her passion and dedication.
Seeing Pressure Cooker made me fall in love with Wilma Stephenson, and Rachael Ray did, too.
Ray was so impressed by Stephenson's success rate with her students that she enlisted the resources of her non-profit Yum-O! and the Rachael Ray Show to honor Stephenson for her extraordinary devotion to her students.
So, on Monday, May 3rd, the Rachael Ray Show will air an episode entitled "Room 325," which will introduce the tender-hearted terror of Frakford High to the rest of America. By a happy coincidence, Eating Liberally is hosting a screening of Pressure Cooker here in NYC on the same evening. Please come if you're in our neck of the woods, and if you're not, get a copy of the DVD--you'll see why Rachael Ray wanted to go and meet Stephenson for herself!
I asked Ray to tell me a little more about why she chose to feature Stephenson, and she kindly took time out to answer my questions via email:
* * *
Kerry Treuman: You snuck into culinary teacher Wilma Stephenson's Philadelphia high school over spring break like some kind of Secret Santa, and gave her kitchen and classroom a total makeover with state-of-the-art equipment. What inspired you to do this?
Rachael Ray: Wilma inspired us to do this! This is one of the few culinary programs left in public schools and they are so important. I was interested in Wilma's program as a whole because not only is she teaching kids values and a vocation, but she is also a mother figure and a mentor to her students. You have to celebrate someone like that!
In a school where 40% of the students don't graduate, 100% of Wilma's students graduate with the ability to get a decent job in the food service industry if they don't pursue college. That's amazing!
KT: You've never made any bones about the fact that you had no formal culinary training yourself (and it doesn't seem to have, um, held you back, exactly.) But in addition to giving Wilma an "extreme kitchen-classroom makeover," you awarded each of her 10 graduating seniors a $5,000 scholarship. What do you hope this will do for them?
RR: These kids have so much stacked against them that the scholarships are a small gesture. They are an ingredient dropped in the recipes of the next step in their lives!
KT: Michelle Obama is inspiring millions of Americans to get off the sofa, bag the chips, get digging, get cooking, and get healthy. As one of America's best-known celebrity chefs, you have an incredible platform from which to help her rally the troops.
Clearly, you're stepping up to the plate. So I'm gonna pitch you a softball--do you have a strategy to help the First Lady hit this campaign out of the park?
RR: Healthy eating has to be a conversation. My approach to getting families to eat healthy is multi-pronged -- I believe everyone must become an activist in their community around the concept of good health and nutrition. In order to achieve substantial changes, you need to take baby steps.
People want food that is familiar to them. It's very hard to ask families to stop eating burgers, fries and macaroni and cheese all together, but you can arm them with information in order to do so in a slightly healthier way. Making simple changes in peoples meal routines, such as switching out white bread for whole wheat bread and white pasta for whole grain pasta. Whole grain pasta alone is a great source of protein and fiber.
Another example is instead of making regular mashed potatoes, you can make mashed sweet potatoes. Sweet potatoes are the number one most nutritious vegetable in the produce department -- and they are delicious! Small steps can add up to big changes in the overall health of an entire family.
It's also very important to give your kids ownership of the food they eat! Let them get involved in the process. Whether it's in your yard or in your windowsill, introduce growing fresh vegetables to them. By helping grow what they eat, kids know where food comes from and they can choose to eat what they watched grow.