Laughing Liberally Comics
Comedians currently appearing with Laughing Liberally:

JAMES ADOMIAN - An actor and writer from Los Angeles best known for doing impressions of George W. Bush and other laughable characters. A member of the Groundlings Sunday Company and a frequent performer at the Upright Citizens Brigade and Garage Comedy, he has appeared on "The Late Late Show with Craig Ferguson" on CBS many times, and has performed for Comedy Central, Air America, Channel 101 and The Onion Radio News. He is the star and co-creator of "West Wingers," a Shoutboy.com podcast that is wildly popular in the "blogosphere" -- a trendy word which sounds like an atmospheric layer of vomiting walruses.

LEE CAMP - At 25 years old Lee Camp has headlined 200 college comedy shows, has published two comedy books, is the head satirical news writer for ComedyExpressTV.com, and has been featured on "Law & Order: SVU," E! network's "50 Greatest Chick Flicks," Spike TV's comedy "The Order of The Serpentine," and Gwyneth Paltrow's short film "Dealbreaker." He's also a staff writer for the liberal satire site BigFib.com. You can find out more about him and enjoy his comedy at LeeCamp.net or MySpace.com/LeeCamp.

JIM DAVID - One of the top headliners in the country, slays bipartisan audiences nightly with his outrageous and biting comedy. His TV appearances include Comedy Central's Comedy Central Presents Jim David, Tough Crowd With Colin Quinn, Out On The Edge, USO Comedy Tour, Comic Remix, Comic Cabana, and Friars Club Roast of Rob Reiner, Bravo's Queer Eye For The Straight Guy, Greatest Things About Being..., ABC's The View, New Joke City with Robert Klein, NBC Comedy Showcase with Louie Anderson, A&E's Caroline's and Evening at the Improv, MTV 1/2 Hour Comedy Hour, VH1's Fools For Love, Showtime Comedy Club Network, Dateline NBC, Star Search, and others. Broadway: Best Little Whorehouse Goes Public. Off Broadway: The Learned Ladies, The Liar. Regional: Greater Tuna. CD recordings: Eat Here and Get Gas and Live From Jimville. Winner of MAC and Backstage BISTRO Awards. Comedy Festivals: Montreal Just For Laughs, HBO Aspen, Chicago, Manchester England. His column 'Friend or Foe' appears in 'The Advocate.' His one-man comedy South Pathetic, a play about the worst community theater in the South, was presented at the Williamstown Theatre Festival as well as other theaters around the country. He produces and hosts Comedy Cares, a standup benefit for Broadway Cares/Equity Fights AIDS, which will be presented at Carolines on April 3. (www.jimdavid.com)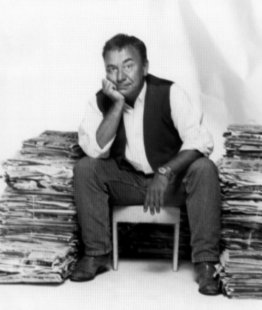 WILL DURST - Sweeping both sides of the aisle with a quiver full of barbs sharpened by a keen wit and dipped into the same ink as the day's headlines, Durst transcends political ties, last year performing at events featuring Vice President Al Gore and former President George HW Bush, also speaking at the Governors Conference and the Mayors Convention cementing his claim as the nation's ultimate equal opportunity offender. Outraged and outrageous, Durst may mock and scoff and taunt, but he does it with taste.
A Midwestern baby boomer with a media induced identity crisis, Durst has been called 'a modern day Will Rogers' by The L.A. Times while the S. F. Chronicle hails him as 'heir apparent to Mort Sahl and Dick Gregory.' The Chicago Tribune argues he's a 'hysterical hybrid of Hunter Thompson and Charles Osgood,' although the Washington Post portrays him as 'the dark Prince of doubt.' All agree Durst is America's premier political comic.(www.willdurst.com)

NEGIN FARSAD - Fusion, double consciousness, and mixed identities are writ large in Negin's work. Her last solo show, Bootleg Islam was performed to sold-out houses all over the country where she was called 'smart, funny and fascinating' by the Wall Street Journal, a Critic's Pick by the Chicago Tribune, and 'a shining exception' by the Dallas Morning News. She has contributed comedy content to Pacifica and Sirius Radios. She was also nominated for an Emerging Comics of New York Award. Negin has done a bajillion voiceovers for commercials, not to mention other acting roles, and a featured comic spots for the Q Television Network. She's performed all over the United States, including the Comedy Store (LA), the Laugh Factory (NY), the Chicago Sketch Festival, the Los Angeles Improv Festival, and the DC Comedy Festival, among others. Plus she's about the only Iranian-American female comedian this side of the Atlantic... and... um... the Pacific.

JULIE GOLDMAN - "A master of irreverent cultural criticism" Julie throws punches at everything from politics, to pop culture, herself, her Jewish family, and all that is false and hypocritical in our modern society. "Charmingly deviant" and touted as "the most original and captivating comic giggin' today", Julie has been featured on FUSE TV, VH-1, QTV, AMC, BRAVO, and HBO's THE SOPRANOS. Julie's likeable, vulnerable persona combined with her explosive comic rage will leave you laughing, perplexed, and ultimately hopeful. (www.julie-goldman.com)

KATIE HALPER- Is an Artistic Director and Comedy Curator at The Tank, a space for emerging artists, where Laughing Liberally was initially developed. She performs her own monthly show, Red Diaper Baby Presents, and performs throughout the city (Stand Up New York, Mo Pitkins, Galapagos). Her award-winning documentary, La memoria es vaga, about historical memory in Spain, premiered at the Amnesty International Firefly Festival and has been screened at the Havana Film Festival and throughout Spain. Katie is currently developing a one-woman show, Mi Vida Meshugga(http://katiehalps.blogspot.com)

JAMIE JACKSON - Jamie is an actor, writer and comedian who studied acting at Australia's premiere theatre school, NIDA, gaining his BA in 1989. He worked for ten years as an actor with all of Sydney's major theatre companies as well as in film and television. In 1998 he moved to New York where he gained his MFA in musical theatre writing from NYU in 2000. Since then he has written several musical theatre works with his wife, SoHee Youn (composer) including Love: A Multiple Choice Question, a one man musical which they performed in the 2003 New York International Fringe Festival and then toured to Melbourne and Sydney in Australia. Jamie studied standup with Stephen Rosenfield at the American Comedy Institute and has performed at Caroline's, StandUp New York, Village Lantern, The Duplex, Don't Tell Mama, Joe Franklin's and now with Laughing Liberally. Currently, Jamie and SoHee are working on a new full-length musical comedy, The Man for the Job, as well as a new one man musical, The Trojan Clothes Horse, with book writer, John Herin. Jamie is thrilled to be affiliated with Laughing Liberally and is grateful to Eric Krebs for this opportunity. (www.jamiejackson.com)

MYQ KAPLAN is a divorced, vegan, atheist-ish Jew who seems sort of gay also, so that should cover the 'liberally' portion of this enterprise. He's appeared on Comedy Central's "Live at Gotham" and at the Great American Comedy Festival, so he knows about 'laughing' as well. Put all that together like a lamer but more hilarious version of Voltron and you win! Check out www.myqkaplan.com for more wonderfuls. PS Liberals know about Voltron, right? It's not some sort of right wing project?

DEAN OBEIDALLAH - A former attorney turned stand up comic, Dean has been featured on numerous national and international television programs including, ABC's 20/20, CNN International's Inside the Middle East, CNN's American Morning, Japan's NHK, MSNBC and Comedy Central's Tough Crowd with Colin Quinn. Dean is very proud to have recently been awarded the first annual "Bill Hick's Spirit Award," named after the late political comedian Bill Hicks, by the Hicks family and the New York Underground Comedy Festival for "thought provoking comedy."
Dean can also be seen in the DVD version of Michael Moore's Fahrenheit 9/11 in a bonus segment showcasing Arab-American comics. Dean co-hosts a monthly radio show in NYC on WBAI 99.5FM which features Arab-American artists. He has also been featured on various NPR programs and is a frequent guest on the national radio network, Air America.
Dean is proud to be a co-founder and co-producer of the New York Arab-American Comedy Festival (www.arabcomedy.org) which just completed its third year. Dean also performs with Jewish-American comedian Scott Blakeman as part of the
show they co-created entitled Stand up for Peace
He is currently developing a one man show entitled, I Come in Peace, which is a comedic look at his life as an Arab-American in the post 911 world. In addition to performing at the top comedy clubs and colleges across the US, Dean has performed comedy in the Middle East in Beirut, Dubai, Haifa and Ramallah. (www.deanofcomedy.com)

BENARI POULTEN - Stand-up comic living in New York. He is a former Congressional Aide, a former almost-child-star, and a former field coordinator for the Kerry campaign, and sometimes, he's a Staff Sgt. in the US Army Reserve. Currently, he's a poor grad student at NYU. Benari knows propaganda when he sees it.

HARRY TERJANIAN - Started performing stand up-comedy at the ripe old age of 18 in 2001. Since that time he's worked at many of New York's top clubs and been part of the Laughing Liberally comedy labs at the 45th Street Theater. Harry is also an alumni of the Wicked Wicked HammerKatz, an NYU sketch group, writing and performing in several runs at the Upright Citizens Brigade Theater including "Reading is for Dicks," "Go-Go Robot Dance Party," and "A Wicked Wicked Christmas." In addition he's written and preformed a political one-man show, "The No-Facts Zone" at the UCB, appeared on MTV-U's "The Freshman," been a producer/performer of the Ron and Fez Show (XM Satellite Radio), and a staff writer for the Record and Jersey Journal. He's currently a student at the New York University Gallatin School of Individualized Study.

BARATUNDE THURSTON - When so many Americans get their news from Fox, when the presidential campaign of 2004 was about a war fought in the 1960s, and when a black man with an afro still can't walk down the street without white people touching it, it's time to call on 28-year-old comedian, author and self-described "vigilante pundit", Baratunde Thurston.
Rather than focus on least common denominator humor, Baratunde plays to his audience's intelligence. He takes the absurdities of the media and popular culture and twists them in clever, provocative ways. His standup has earned him honors and stage time across the country. His writing has found a home in his debut book, "Better Than Crying." His skin color has earned him interesting glances at Nascar events.
If you are a fan of Al Franken, Jon Stewart or the Bill of Rights, you will love Baratunde. He is not just an alternative to mainstream media. He's an antidote. (www.baratunde.com)

ELON JAMES WHITEHailing from Brooklyn, USA Elon James White has performed through out NYC and has been featured in the New York Underground Comedy Festival, DC Comedy Festival and recently started working on "The Black Comedy Project"
Elon James founded the comedy production group "The Brooklyn Comedy Company" spawning successful comedy shows through out New York including the critically acclaimed "4 Shades of Black" In February 2008 Elon will premiere "The Black Comedy Experiment" featuring over 40 of the funniest Performers in the Country.
And comics that have appeared with us around the country:

SCOTT BLAKEMAN- "The top political comedian working in New York today"(NBC). He has made more than thirty national television appearances, and has performed his progressive political humor around the world, including the Edinburgh Fringe Festival in Scotland. Scott has been heard on Air America and National Public Radio. He tours colleges and theaters with Dean Obeidallah in "Standup for Peace: The Two Comedian Solution to MIddle East Peace, which recently played to a soldout audience at JT's Off-Broadway Theater.
ELIZABETH JUNE - Elizabeth is the Asst. Director of the AIDP (Attendance Improvement Drop-out Prevention) program at Jamaica High School and an actor/facilitator with HAI performing in shelters and correctional facilities. She has played Carolines, Stand Up NY, Laugh Lounge,The Tony and Shlomoh Show, Sal's Comedy Hole, Botanica Bar, The Tank and too many church fashion shows to mention. June has also performed with gospel ensembles in Europe, Israel and the Caribbean. June is thrilled to be working with the Laughing Liberally comics and crew. Love to JSW and the memory of Ed Sewer III-Masai from The Warriors Riffs!!!

LEIGHANN LORD - Unabashedly smart and wickedly funny, Leighann's on-stage charisma, topics and punch lines get you laughing and thinking at the same time! She's appeared on numerous stand-up comedy shows, including NBC's Comedy Showcase, the Metro Channel's New Joke City with Robert Klein, Lifetime's Girls' Night Out, VH-1's Stand Up Spotlight, HBO's Def Comedy All-Star Jam, Comedy Central's Premium Blend and Tough Crowd with Colin Quinn, and ABC's The View.
Leighann has performed internationally in Trinidad's International Laugh Festival and in the Montreal Just for Laughs Comedy Festival. In England she appeared on the BBC's wildly popular television show Blouse and Skirt. In The Netherlands, she performed on the late night talk show Raymann is Laat. Leighann also entertained U.S. troops stationed in Afghanistan and Saudi Arabia during Operation Enduring Freedom.
For two consecutive years, Leighann was named the official comedian for Harlem Week. (The only other comedian in Harlem Week's history to earn that distinction is Richard Pryor.) She also won The New York City Black Comedy Award for the Most Thought-Provoking Female Comic.

MARC MARON - Standup comic, actor, writer and now radio personality. After a successful run co-hosting 'Morning Sedition' on Air America Radio out of New York City Marc is back in LA with The Marc Maron on KTLK Progressive Talk 1150AM in Los Angeles. 10PM-12PM PT.
Marc is known for his incisive cultural and political commentary, mystical ruminations, and neurotic insights into human nature. Born in New Jersey and raised in Albuquerque, NM, Marc started his comedy career in the late 1980s in Hollywood, California, as a doorman at the famed standup venue The Comedy Store. He has since lived in Boston, San Francisco, and New York City. He has appeared on almost every TV show that allows stand ups. The major appearances being on The Late Show with David Letterman, he is a regular guest on Late Night with Conan O'Brien, he's had his own half hour specials on HBO and Comedy Central. He performed Off Broadway in his one man show, Jerusalem Syndrome, which was later turned into a book that is now apparently a collector's item by virtue of the fact that not many people bought it and it is out of print. His current stand up can be found on two CDs, Not Sold Out and Tickets Still Available. He portrayed the Angry Promoter in Cameron Crowe's Almost Famous which is a powerful forty five seconds of cinema, 'Lock the gates!' His website marcmaron.com www.marcmaron.com can provide info about appearances and other Maron based strangeness. Marc lives in Los Angeles with his comedienne wife Mishna Wolff and four cats.

RICK OVERTON- A veteran of the standup scene and Progressivist for more than 35 years, Rick Overton was riffing on social and political issues when it was just plain foolhardy to do. Some may say Rick's a little weird, but he is saving up to be eccentric, believing that money is not the root of all evil. Assholes with money are, however, the root of all evil. Overton offers a different take on our whole situation, believing that there should be a separation between political correctness and humor. If we want to create RIGHT-FLIGHT we had better shine up our old hippie smiles and start looking like friends-to-all again. WE need an upgrade to NEW PROGRESSIVE 11.1 - NOW NO LONGER COMPATABLE WITH PC.
He has an Emmy Award for his writing on HBO's DENNIS MILLER LIVE, (When Dennis was more of a Leftertarian) in the 1996 season. He's been on numerous shows ranging from cable specials to late night shots.Shot more EVENINGS AT THE IMPROV than Budd Friedman. Appeared in over 80 films and countless guest roles on series. (www.rickoverton.net)
Stuff Rick thinks of at red lights:
* Antidepressants are good for keeping us from noticing things that are depressing.
* Of course Watchinton DC is corrupt. You can't pay that much to anyone and expect them to remain honest. It's like leaving food out at a campsite.
* Blaming W for our problems is like blaming the chromed dog on front of the Mack Truck for the accident.
* To presume just makes the "Press"; out of you and me.
* You can't be wealthy without an ozone layer.

SHANG - Transplanted New Yorker who's carefully nurtured evolution from stand-up comedy to Socio-Political Edgy satire gives heavy flight to the spoken & outspoken word. He has come a long way from the boroughs of New York. Originally from Brooklyn, this Carnegie Mellon University graduate & aspiring illustrator began his comedy career on a dare. A friend bet him $50 to take the stage during open-mike night at a local comedy club. Shang won the bet, caught the comedy bug & quickly became an underground favorite with his dark, avant-garde, socio-political style. With one of the most memorable performances of 1995 on HBO's 'Def Comedy Jam' & Two half-hour specials on BET's 'Comic View Grand Stand,' Shang has cemented his position as one of the brightest African-American funnymen in the business. His passionate & explosive humor has also been showcased on 'Politically Incorrect,' 'NBC's Comedy Showcase,' Comedy Central's 'Comedy Cabana' & was also selected as one of the 'Best of the Fest' on HBO's Aspen Comedy Festival Special. In addition, he has displayed impressive comedic acting ability as a series regular on the late-night laughfest 'The Newz,' & has guest starred on episodes of 'The Jamie Foxx Show' 'The Parenthood,' & was co-host on 'Russell Simmons One-World Music Beat.' Most recently, Shang worked on a panel with MTV's 'Choose or Lose' & also is a regular commentator on Air America Radio's 'Unfiltered'. The debut of Shang's first major release CD entitled 'SHANGRY!!' on Uproar Records was just released in all major music stores to rave reviews. He will also be featured in several upcoming international televised shows in Japan, Ireland, London & Amsterdam. Shang will continue to rise to the top of the comedy ranks with high-profile acting & televised stand up & personal appearances this year. www.iamshang.com

JIMMY TINGLE - Born and raised in Cambridge, Massachusetts. The social, political and economic diversity of that city laid the groundwork for his development as a performer and satirist. He is now regarded as one of the top social commentators and humorists in the country.
Jimmy was the American correspondent for Sir David Frost's show for PBS and the BBC, The Strategic Humor Initiative. He recently completed two seasons with 60 Minutes II on CBS as the humorist / commentator in the Andy Rooney spot. He worked as a contributor and satirist for MSNBC and has appeared on Tough Crowd with Colin Quinn, The Tonight Show, Larry King Weekend, The Late Show with Conan O'Brien, The Late Late Show with Tom Snyder, The American Comedy Awards, as well as his own HBO comedy special.
Tingle recently appeared as a television talk show host in Chris Rock's film, Head Of State. Other film credits include the role of the neighborhood bartender in Next Stop Wonderland, a priest in Boondock Saints, and a restaurant owner in By The Sea. Jimmy also starred in the Emmy Award-winning documentary on art censorship, "Damned in the USA" produced by Channel Four in England in partnership with Channel Thirteen in New York.
He co-starred in the PBS "Travels" series special "America with the Top Down" and appeared in "But Seriously" and "But seriously 94", Showtime documentaries featuring prominent social satirists from Lenny Bruce to the present.
Jimmy's theatrical credits include writing and starring in his own one man show "Jimmy Tingle's Uncommon Sense, The Education of an American Comic". Directed by Larry Arrick, the play received stellar reviews during a nine-week engagement at the American Place Theater in New York City and continued to succeed brilliantly at the Hasty Pudding Theater in Cambridge, MA becoming the longest running one person show in that theater's history.
Jimmy Tingle's Uncommon Sense made its Los Angeles debut at the Coast Playhouse in 1998 and was nominated by The L.A. Weekly for "best male solo performance" for their 20th Annual Theater Awards.
His one-man show, Jimmy Tingle In The Promised Land, debuted at Jimmy Tingle's OFF BROADWAY Theater in Somerville, MA in 2002. His newest one-man show, Jimmy Tingle's American Dream, opened at OFF BROADWAY September 2005, and continues through July 2006.