The Living Liberally 2009 Annual Celebration
Join the Friends and Family of Living Liberally
for our Annual Spring Celebration & Fundraiser!
Saturday, May 30th - 7-11pm
The DCTV Firehouse
87 Lafayette, between Walker & White
The official Twitter hashtag is #livinglib09 - you can check for updates at http://search.twitter.com/search?q=%23livinglib09.
Meet this year's honorees, enjoy the company of fellow Liberals from across our network, raise a glass to our successes and help support our continued expansion.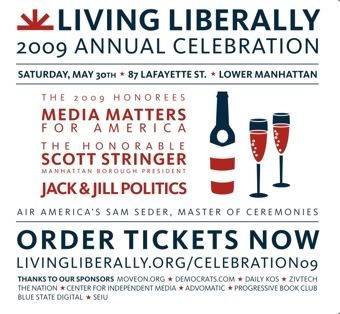 This Year's Honorees
include:

Media Matters
, for helping us Live Liberally, by countering conservative culture, promoting progressive infrastructure and giving all of us liberals something to talk about.
The Honorable Scott Stringer
Borough President of Manhattan, for working to allow us to Eat Liberally in NYC through his office's important and creative work on food policy.
Jack & Jill Politics
and its founders Cheryl Contee & Baratunde Thurston, for inviting us to Read Liberally as their online community has increasingly contributed to our national conversation.
The master of ceremonies will be Air America's Sam Seder.
Sponsors (in formation):

Democrats.com, Progressive Book Club
Center for Independent Media, Advomatic,
Blue State Digital, Zivtech, Color of Change
Daily Kos, MoveOn, SEIU, AlterNet
[To become a sponsor, please email Justin Krebs -
justin (at) livingliberally.org.]
Host Committee (in formation):
David Alpert, Katrina Lynn Baker, Josh Bolotsky, Mary Bruch,
Michael Freedman-Schnapp, Katie Halper, Justin Krebs,
Wendy Cohen, Kombiz Lavasany, Elana Levin, Matt O'Neill, Greg Rae,
Matt Rosenberg, Hugh Rothbaum, Peter Rothberg, Casey Selzer,
Claire Silberman, Joel Silberman, David Silversmith, Matt Stoller,
Shaunna Thomas, Kerry Trueman, Heather Woodfield
Media Partners:
The Nation, Time Out New York
Event Partners:
DCTV, Ig Publishing, Blue State Coffee,
True Patriot Network, Skyhorse Publishing
Magic Hat Brewery, Rudy's Bar and Grill
Get Your Tickets Now!
Volvo-Driving Liberal - $250
Sushi-Eating Liberal - $150
Latte-Sipping Liberal - $100
Recession Special:
Community Organizer Early Bird Rate
(get two tickets for only $150 if you order now)
Chip In What You Can -- if you can't come to the event, consider "Tipping Liberally" to help support our chapters across the country, and show your support for the event.
You can also help out via check and snail mail.

Make checks payable to:
"Living Liberally"
and send to:
Justin Krebs
425 West 45th St 3FE
NY NY 10036

And if you're more of a Facebook fiend, go here.

To join the host committee, volunteer or ask any questions, please contact Mary Bruch: mary (at) livingliberally.org